Exciting news!
Thank you to everyone who nominated and voted for me in IMPACT Magazine's "Top Fitness Trainer" feature, showcasing personal trainers from all across Canada.
Their January/February 2018 issue just dropped, and I'm so excited to see my name on the pages!
You can find the full article in a digital version here.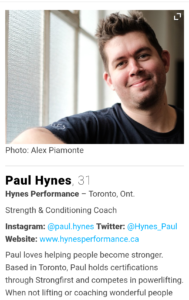 This only happened because of each and every one of my clients who took the time to say a few words about the great work that we do. None of this would be possible without the awesome people who choose to let me be a part of their journey: For that, I am very grateful.
My wonderful clients make all the hard work, long days, the copious amounts of learning, practice and making mistakes 100% worthwhile.
One more thing: Don't think for a second that I'll be resting on my laurels after this announcement.
I'm going to continue to work hard, improve and grow so that I can raise the bar in 2018 and beyond.
Thank you so much everyone!
Big hugs,
Coach Paul